Blairsville • Suches • Union County • North Georgia Mountains
Travel • Real Estate • Lodging • Cabin Rentals • Restaurants • Outdoor Adventure

Located at the center of the North Georgia Mountains, just below Brasstown Bald's 4,748-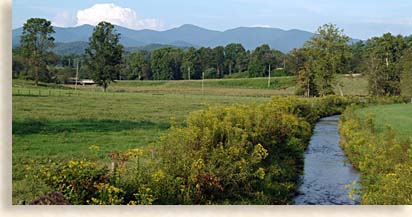 foot summit is Union County Georgia. Union County is often considered the home of Brasstown Bald, when in fact this high mountain summit hugs the county border between Union County and neighboring Towns County.
Technically the bald is just inside Towns County, what often raises the confusion concerning the bald's geographical location is that the Brasstown Bald U.S. Forest Service, Brasstown Ranger District is in Blairsville - Union County.
What does stand for fact in Union County's claim for height status is the community of Suches, located in the rugged southwestern mountains of Union County. At approximately 3,000-feet above sea level, Suches is respectively known as Georgia's highest mountain community.
Across Union County's beautiful mountain landscape you'll find lakes, rivers, creeks, trout streams, waterfalls, campgrounds, hiking trails, horseback riding, mountain biking, fishing, lodging, dining and shopping. Union County possess a wealth of natural resources and history along with mountain vistas that defy description.
After the exodus of the Cherokee people in the mid to late 1830's, white settlements began to occupy this mountain region. Properties were obtained by a land grants through a lottery system.
Union County was formed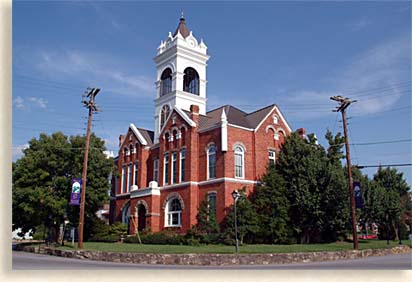 out of the greater Cherokee County which encompassed several of today's North Georgia Counties. In 1847 Union County was incorporated making the town of Blairsville the County Seat and center of Commerce. Standing proudly on the center of the town square in Blairsville is the Romanesque-style courthouse built in 1899. The distinctive white clock tower atop the red brick courthouse rises above all structures visible from anywhere within the city limits of Blairsville.
What drew Union County's ancestors to this mountain region was gold fever, spurred on by the late 1820's gold strike in Auraria near the town of Dahlonega in Lumpkin County which is just south of Union County. The gold rush didn't persist for very long once greater gold strikes drew the masses of fortune hunters to the distant lands of California in 1849. Even though you can still pan the high-grade gold out of streams and creeks or chisel it from veins of quarts along mountain sides, (with written permission from forestry or private property owners), it was the majestic beauty and isolation of these mountain lands and valleys that kept the people coming to Union County and its mountainous neighboring counties.
Today Union County is an ever growing mountain community with county planners paving the way for greater and more convenient commercial services. Highway 515, a 4-laned corridor through Blairsville, has been dedicated the Zell Miller Highway, honoring local native and former Georgia Governor and Senator Zell Miller. This important artery, connects to I-575 to the southwest and leads directly from Atlanta to the very doorstep of Blairsville.
It wasn't long ago that local direction given anywhere in Union County would start out with, "go to the stoplight and turn" (obviously the only stoplight), that would only confuse guests visiting Blairsville today.
What hasn't changed is the ageless personality and hospitality of Union County's hometown charm; the only difference has been more conveniences made available to this laid back mountain community. The growth of Blairsville has been on a steady march, which includes major corporate chain stores; an ever-expanding award winning hospital and local medical services, new public school buildings and the newly constructed and well-appreciated North Georgia Technical College.

The Blairsville Airport on the west side of town has a 5,000-foot runway and plans for another expansion in the near future. The airport is a favorite of small corporate jets, and private owned planes whose pilots love to cruise the open skies over mountain summits and large valleys.
Meeks Park on the western edge of Blairsville, across from North Georgia Technical College has brought life from the indoors of Blairsville out into the open air. The cascading waters of Butternut Creek run through the heart of Meeks Park, offering a picturesque setting that accents the very nature of this mountain community.
Meeks Park offers many facilities for outside exercise, family outings, reunions and local events. At Meeks Park you'll find several lighted ball-fields, tennis courts, an Olympic–size swimming pool and bath house, picnic pavilions, playgrounds, a riverside gazebo, Nottely River overlooks, and over a mile of walking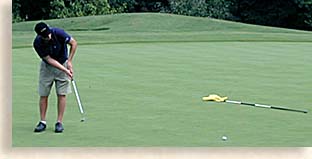 trails.
A quarter of a mile east of Meeks Park and across the road from Blairsville's town square is the Butternut Creek Municipal Golf Course. This public golf course offers 18-holes of fun and frustration, all within reach of the city limits, conveniently located near dining, shopping and lodging.
Although Blairsville is the principle town in Union County there are other local communities in Union County that offer their own mountain charm, minus the city lights.
Suches

Suches is Union County's second largest community, but don't go looking for the downtown district of Suches, it doesn't exist.
Suches is a rural community with modest commerce. What distinguishes Suches from all the other communities is its altitude. Suches is about a 45-minute drive from Blairsville and located in the high southwestern mountainous region of the county, surrounded by the Chattahoochee National Forest. This community has changed very little in the last 100 years with a modest increase in residents, local folks as well as the new residents like it that way.
The historic Woody Gap School is the smallest and highest elevated public school in Georgia with grades K-12. Woody Gap is along highway 60 just above the southern horizon of Suches. The gap offers long views of the lowlands and foothills of northern Georgia. The Appalachian Trail crosses at this location as it makes its journey northward along the Blue Ridge Mountain tops.
Trackrock Valley
The old timers wouldn't recognize historic Trackrock Valley today. Ancient landscapes just below the western slopes of

Brasstown Bald are dotted with homes that range from modest and quaint to grand estates dominating the horizon.
For over a decade Union County Georgia has become the focal point for many retirees, vacation homeowners and folks relocating to the high country. All share the same common thread, they are seeking solitude and escape from the stressful life of the outer world, finding peace, comfort and leisure within the confines of the beauty and serenity of Union County.
Events and Festivals
Two of Union County's most popular events take place annually in the towns of Blairsville and Suches. The Sorghum Festival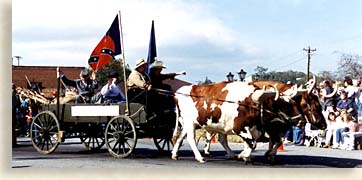 held each October in Blairsville begins with a heritage parade around the courthouse square. The rural high country farmers of Union County's valley lands love their home grown sorghum, a delicious golden brown syrup. They have been sharing this sweet delight for generations with all the leaf watchers arriving each autumn for nature's festival of colors.
This festival is held at Meeks Park located right off Hwy 515 as you enter town. The event has spurred such culinary challenges as the "Biskit-Eatin' and Syrup Soppin' Contests." At the festival you'll find Arts and Crafts made in the traditional mountain folk fashion, celebrating love of early mountain culture. The Sorghum Festival adds richness to these age-old mountains, keeping the precious memory of mountain life alive for generations to come.
The other popular autumn event held in Union County is the Indian Summer Festival held in Suches. Encircled by large mountains and isolated from the outside world, this annual fundraiser is to benefit the Woody Gap School. Arts, crafts, contests and displays of the old mountain customs are not only entertaining but also educational. The local Army Rangers have been known to stop by and demonstrate their skills in defense and offense.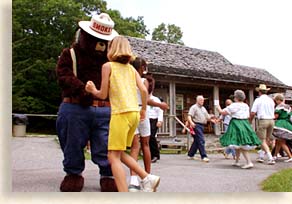 An occasional event, held high atop Brasstown Bald is the Cool Mountain Festival, hosted by the Brasstown Bald, U.S. Forest Service, Brasstown Ranger District. This festival is fitting to its name due to the cool air and gentle winds you'll find atop the bald mountain during hot summer days, natures own air conditioning high above the valley below.
Held on the grounds around the old cabin next to the parking area and atop the bald summit are mountain arts and crafts, storytellers, music, dancing and more, making this a fun and joyous event for all ages at this most unique location. Even Smoky the Bear comes down from his northern Smoky Mountain National Park to visit and dance with his southern Blue Ridge Mountain friends and kinfolk. If you're in the area when one of these festivals are going on, it's worth the road trip up Brasstown Bald's paved approach road. Though the festival is not an annual event it offers lots of family fun.
For these and other events taking place in Union County, checkout the Highlander's Calendar of Events.
Mountain Fun and Adventure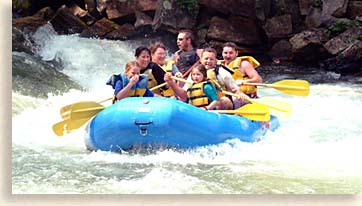 The beauty and majesty of Union County offers so much when it comes to family fun and adventure. Shopping, dining and lodging deliver the creature comforts we value so much, while recreation and adventure offer a world you don't normally find at home.
Scenic drives, hiking, biking, horseback riding, fishing, boating and camping along with events and festivals can take you places you've never been before with experiences you can't wait to share with those you left behind. The infamous Appalachian Trail passes through Union County along with the Benton MacKaye Trail for you die hard long hikers and backpackers.
The gentle cascading Nottely River in Union County is great for fishing and tubing, if you're looking for the thrill of white water rafting, Union County is only 45-minutes from the world renowned Ocoee River, home of the 1996 Summer Olympics.
Land of Wonders
Union County has become a refuge for visitors, vacation home owners, retirees, and the newly arrived round-year residents who came to live a unique lifestyle in a land of natural wonders, a world of legends, myths and beauty that can be enjoyed all year long.
Springtime awakens the the wildflowers in meadowlands and along roadsides, displaying an array of bright colors while filling the air with the fragrance of fresh mountain wildflowers.
Summer brings adventure and family fun to the high country where you'll find both excitement and leisure in the North Georgia Mountains. The mountains are a great escape from the summer heat, offering their own natural air conditioning with cooler than average temperatures.
Autumn ignites a "festival of colors" drawing armrest sightseers cruising the highways and byways in search of nature's palette.
Winters are mild with little to no snowfall creating a quiet solitude in the mountains. The winter season can produce an occasional road icing, although most often the noon day sun restores the roadways to safety while mountain peaks glisten with their whitened crowns. That's the time to enjoy the fireside while awaiting the thaw.
The mountains, lakes and pristine waterways make Union County so special. Lake Nottely lies in the central northern end of the county. This man-made lake constructed by the Tennessee Valley Authority forms a 4,180-acre utility lake. The lake reaches full pool status from May through August and is fed by the Nottely River as well as other creeks and streams.

Spring and Summer are the seasons Lake Nottely draws the most visitors with boating, water skiing, swimming, fishing and camping, on and along its fresh crystal blue waters. Lake Nottely Dam is located at the northern end of the lake where the lake waters are the deepest and broadest. Dozens of miles of channels make up the majority of the lake's bountiful waters with quiet coves and special fishing spots. A pontoon boat trip can drift away the hours offering a leisurely journey lost to the outside world.
Nottely River forms the headwaters of Lake Nottely beginning its journey from the county's high southern mountains. Flowing across the lower valley regions of Union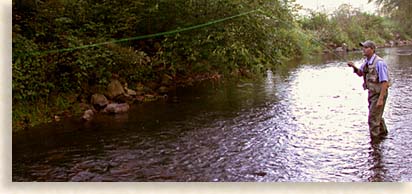 County's open countryside, the river beckons to fishing persons to brave the cool waters of the river with their waders, lines, hooks and lures. Nottely River along with many of the county's other water courses offer the thrill and solitude so many fly-fishing persons long for.
Reaching into the northern region of Union County, Nottely River becomes the primary water source for Lake Nottely. In the winter months you can follow the ancient path of Nottely River's original waterbed, Passing through the locks at the northern end of the lake, Nottely River travels northward crossing the northern border of Union County in North Georgia as it enters far western North Carolina on its way to the Tennessee River Valley.
Lake Trahlyta located at the base of Blood Mountain along U S 19/129 in Vogel State Park is a beautiful small mountain lake with a dramatic mountain backdrop to boot. This is a great recreation lake for all ages. Vogel State Park provides a beach and bathhouse for swimming and for a modest fee you can rent paddle boats. The park offers miles of hiking trails, fishing, picnic areas, camping and some cabins for rent. Vogel State Park is a very popular destination large enough for recreation yet not over crowded.
Lake Winfield Scott is the lake to visit if you are looking for peaceful solitude. Lake Winfield Scott is located off GA 180 in the high southwestern mountains, near the mountain community of Suches. Isolated, pristine and majestic fit the lake's description perfectly. Hiking trails, picnic areas, camping, swimming, fishing and boating (canoes and electric motor powered boats only) make up the fun and recreation to be enjoyed on this 18-acre lake. The high mountains surrounding the lake and its remote location showcases the natural charm you'll find along the shores of this pristine body of water.
Cooper's Creek Scenic Recreation Area is a rugged mountainous land located in a deep valley, hidden away below the surrounding mountain peaks, a land lost to the eyes of the outer world. Most visitors to Union County have never seen this scenic area. From Blairsville you have to ascend up an unpaved forestry road and over Mulky Gap just to catch a glimpse of this lost wilderness. This region of Union County is for the true blue outdoor enthusiasts. With 1,240-acres of wilderness this is an ideal setting for those who really, and I mean really are looking to get away from it all. Cooper's Creek with its surrounding mountains create a bowl shaped atmosphere with creeks and streams teeming with stocked trout, flowing down and through its central valley. Cooper's Creek Scenic Recreation Area offers hiking, trail biking, camping and fishing.
History, Times and Changes
Traveling across the heartland of Union County you'll find old mountain life relics and ruins, cherished remains of
ancient homesteads dotting the landscape. These reminders of times gone by are a scattered collection of lost treasures. Many of these structures are being removed for the sake of progress while others are being preserved or even restored for the sake of posterity. You never know which one of these local landmarks is staying or going so I recommend a photograph to preserve their memory just in case.
Union County has a wealth of history to explore and I would recommend you begin your
tour into the past by visiting the Old Courthouse on the square which today is home to Union County Historical Society and Museum. The "Golden Days" kicked open the door to Union County in the mid-1830's, a hard life of panning and mining the precious gold was short lived though, due to the California Gold Rush of the mid-19th century.
By the turn of the 20th century a young country's thirst for lumber took its toll, not only on this region but also nearly all regions of the Blue Ridge Mountains. The ravaging of these mountains by large lumber barons hungry for profit, eventually opened the way for the founding of the National Forest Service in the early 20th century. Thankfully the National Forest Service purchased millions of acres of mountain wastelands for the purpose of restoration and preservation. The museum can enlighten you concerning these days of hard times and poor mountain folk needing work, as well as those who came with the sole purpose of profiteering.
One of the more unique jewels of this particular region came not in natural resources held within the land per say, but in the human flesh and bone of a renowned individual named Byron Herbert Reece. This native of Union County was a writer and poet, sharing his mountain life experience with his many admirers and neighbors.
Born in 1917 this poor son of a rural farmer was gifted with the ability to convey life in an isolated mountain region through his poetry and writing often sharing his biblical faith contained within the confines of his heart felt renderings. So exceptional were his works that this backwoods country boy was nominated for a Pulitzer Prize, bringing his gift to the forefront of international acclaim. His poetry was the inspiration of the State of Georgia's official drama "The Reach of Song." Performances of his inspired work are held at the Clegg Auditorium on the campus grounds of Young Harris College in neighboring Towns County. He spent most of his adult years caring for his mother and father who were afflicted with tuberculosis. The hardships of life and illness eventually took his gifted mind and life in 1958. His memory has been preserved with his Birthplace Homestead now listed as a registered historical site, along with the Byron Herbert Reece Memorial Park on the upper slopes of Blood Mountain near Neel's Gap.
Yet the inspired greatness in human achievement within Union County doesn't stop there. In the mid 1800's this mountainous high country, with its winds and updrafts lifting eagles and hawks soaring high above the mountain tops were considered the only aerodynamic children of flight the good Lord ever created, until one man's vision choose to challenge what others declared couldn't be done.
A local young man named Micajah Clark Dyer (1822-1891) lived at the foot of Rattlesnake and Cedar Mountains in the Choestoe District of Union County. This insightful and intelligent young inventor who was always tinkering and inventing gadgets much to the amazement and often scorn of his neighbors. Clark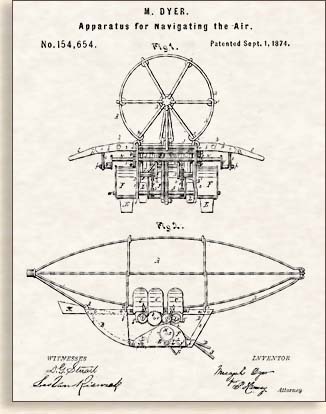 was a poor farmer with a family to feed and his formal education did not surpass the one room country schoolhouse he attended. With a wondering mind and the natural skill of an architect, he often watched the birds flying over his farm and pondered why can't a man fly?
With an imagination fit for a genius and primitive tools he confined himself to his work shed drawing precise plans and constructing a flying machine. Clark applied for and received U.S. Patent No. 154,654 on September 1, 1874 for his "Apparatus for Navigating the Air. "
Eyewitnesses from family, neighbors and friends saw him fly off the side of Rattlesnake Mountain navigating his crude flying machine over their fields. Two news articles were published concerning the flight in 1875, one in the Gainesville Georgia Eagle and the other in the St. Louis Globe-Democrat.
This event took place some 30-years before the Wright Brothers' claim to fame. Quite impressed with his hand drawn patented plans, the Highlander has included a copy to give our readers a view of his creation.
Clark Dyer died in 1891 and his widow sold both the plane and the plans to the Redwine brothers. It's the family's belief that those plans found there way to the Wright Brothers. Others have often contended that the Wright Brothers weren't the first to fly and gave credit to a handful of others. Possibly the Wright Brothers were just insightful enough to alert the media, grounding their accomplishment. To further follow up on this historical confirmation check out the family web site www.micajahclarkdyer.org and follow the paper trail.

Mountain Paradise, Lost and Found
At the turn of the 20th century, mountain beauty was no longer considered a natural resource. After gold fever struck and subsided, it was lumber that spurred the next natural mountain resource rush. Driven by a hunger to satisfy a young nation's thirst for achievement, ax and saws went to work on the scale of a frenzy, it has been estimated that as much as 80% of the wooded mountain slopes and ridges throughout the Blue Ridge Mountains were completely leveled. Clear cutting laid waste to the landscape, causing erosion that devastated the watersheds and vast wildlife habitats were destroyed. During this time Congress began to pass bills that would allow the purchase of these wastelands. Clear cutting depreciated the value of mountain lands making private owned property available for reasonable cost with the exception of the Great Smoky Mountains region, that landscape didn't particularly go cheap. Through these Bills and Acts of Congress the National Forest Service was eventually established to control and oversee the preservation, conservation and natural development of these forested lands we enjoy so much.
Today the majority of these wooded forests consist of an amassment of young tree growth, just babes compared to their giant forefathers. What the Forest Service was able to achieve along with its reforestation program was to obtain as many stands of "old growth forest" that were left due to their difficult access. These jewels were locked away deep within the forest and along the high ridges of the Blue Ridge Mountains. The two largest tracts of "old growth forest" lie to the north of Union County, those being the Joyce Kilmer Memorial Forest and Slick Rock Wilderness Area in the Nantahala National Forest of North Carolina. The other "old growth forest" is the granddaddy of them all, the Great Smoky Mountain National Park in Eastern Tennessee and North Carolina.
The majestic mountain beauty of Union County is now under the guardianship of the Chattahoochee National Forest, which encompasses all National Forest lands throughout North Georgia's Blue Ridge Mountains. Not only have these mountain forests been saved and restored, their priceless watersheds and wildlife have returned to a natural order within the Forestry Service properties. Throughout the Blue Ridge Mountains the National Forest Service continues their hard work preserving these necessary watersheds that are essential to all life forms throughout the Southeastern United States. Their dedicated service has maintained these natural waterways and wildlife. Such success is due to the planning program of the National Parks and Forest Service.
What wasn't necessarily in the overall plan of the National Forest Service was the preservation of sites that contain the mysteries and mystics within these mountain wildernesses. Sacred sites, legends and myths have once again reclaimed their ancient status within these National Forest and Parks. We're not just talking about 18th and 19th century explorers, hunters and settlers who came to these mountains, or the lives and legends of local Native Americans who have lived here for so many generations. We're talking about signs of the ancients and the other worldly presences that reflect a time that goes back further than prehistory. There's a sense of the unknown here in Union County and its neighboring rugged mountain regions, holding several of these geographical treasures, indefinable, unexplainable mysteries that boggle the mind.

The very first white Europeans that explored this area in the 1550's began documenting their historical experiences and encounters. The Cherokee and Creek Nation's history is of the oral tradition, which at times became cloudy regarding some of the mysteries. Many of these mysteries date back to prehistoric times with details that are sketchy at best these days. There is a richness that is deeper than the visible surface of these mountains, an unseen wealth locked away under the key of time and thankfully preserved by the National Forest Service.
In the meanwhile you can join us for a scenic road trip into Union County's mountainous regions, to view some of these mysterious landmarks as we provide you with the generally excepted explanation of their origins and briefly tour the ancient sites as well as other points of interest and recreations.
Beauty, ideal growth, outdoor adventure, festivals and events with a nice selection of dining, shopping, lodging and friendly people have made Union County a perfect destination for vacation as well a second residence or full year relocation. It's all worth the journey, use the links below to begin your plans today.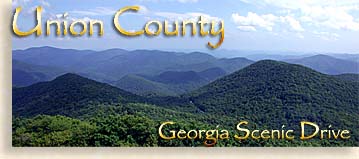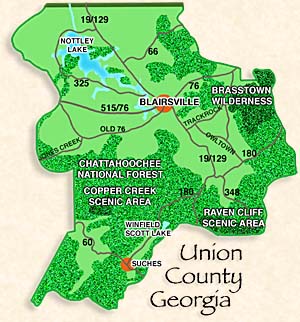 click map
for a larger image

Blairsville, Georgia - Weather.com
Blairsville• Suches• Union County• North Georgia Mountains
Welcome Center

Each season there's something new in Blairsville-Union County! Spring and summer outdoor lovers will hike endless trails, see breathtaking views atop Brasstown Bald, visit rushing waterfalls, and relax on serene Lake Nottely. Delight in the explosion of autumn leaf color or cuddle up in a cozy winter cabin.

Luxury Cabin Rentals

Pet Friendly - My Cozy Cabin is a wonderful 2-bedroom, 1-bath cabin located in Blairsville Georgia. This cabin has easy access from Hwy 515, yet has privacy with a great yard to play in. Bring your fishing gear and see what you can find in the pond. This cabin has plenty of decks great for outdoor entertaining.

A fire pit beside the house offers the opportunity for great campfire stories and smore roasting. Wake up in the Master Bedroom, open the balcony doors to the fresh mountain air. What a great way to wake up to the mountains. This cabin is equipped with tons of family friendly movies to keep the kids entertained.

Enchanted Mountain Retreats is not your average cabin rental company, we pride ourselves with excellent customer service. We treat each guest as an individual and address your needs specifically so that we can tailor a perfect vacation package just for you and your family.

We take care to choose the best cabins available to insure that your stay with Enchanted Mountain Retreats is a great mountain experience. Rest assured that you will find your cabin clean and in good repair, we also empty, sanitize and refill our hot tubs between each rental. Our standards are high and that benefits you, we check your cabin before you check in the make sure it is ready for your arrival. 

Real Estate

Based in Murphy NC and serving highly satisfied customers since 1978, ERA Carolina Mountain Homes is a full service real estate office ready to serve YOUR needs.

We cover five mountain region counties in NC and GA - the Murphy, Andrews, Brasstown and Hayesville NC areas; and the Blue Ridge, Blairsville and Young Harris/Hiawassee areas.

Residential and Commercial Builder

Tighe White Construction, Residential and Commercial Builder

Over the years, Tighe White Construction has developed an excellent reputation in the North Georgia and Western North Carolina mountains, for their attention to details, caring customer service and high level of workmanship. Tighe uses cutting-edge CAD software to quickly and efficiently design your new construction. This allows our clients to preview realistic 3-D views of the exterior and interior of their new construction, so that you can visualize the finished look and feel, long before we break ground.

Log Home, Timberframes and Traditional Home Builders

My name is Mike Williams, and I have lived in these mountains my entire life and have been building homes for 20 years, I understand mountain land better than most and always take that into consideration when designing homes. I feel it is important to build homes that blend well with the landscape not only in aesthetics, but also in the basic foundation of the home. This assures you that your home is structurally sound and well built on the land of your choice.

Guided Fishing Trips on the Nottley River and Lake Nottley

Great mountain adventures is offering the "Best Fishing" available in the Mountains. We create a fishing trip, designed specifically towards your needs with a professional fishing guide to guide you to make the most of your fishing adventure on the Finest Lakes, Rivers and Streams in the Southern Appalachians!

Trout Treks • Bass Fishing • Wade Trips • Pan Fishing • Fly Fishing Instruction • Private Trophy Trout Waters • Drift Boat Trips. So much water to choose from and an adventure you'll never forget...click for more information.

Blue Ridge Community Theater

Blue Ridge Community Theater invites you to "Come Out and Play."

There is nothing like the energy you feel when attending a live performance and we are here to help you experience that feeling. Blue Ridge Community Theater's mission is to enrich the cultural life of residents and visitors through performances, productions and education of all aspects of contemporary and classic theater.

Go Directly to our web site.....BlueRidgeCommunityTheater.com

Farmer's Market

Union County Farmer's Market in Blairsville GA
Every Tuesday & Saturday ~ June through October

The Union County Farmer's Market has over 60 covered vendor spaces in our outdoor setting. The facility located at 148 Old Smokey Road off of Weaver Road is home to a variety of events and festivals outside of the seasonal market. Those events include a ramp festival, strawberry jubilee, trash to treasures sale, relay for life event, and an outdoor business expo.