Fox Fire Museum • Shopping • Art Galleries • Outdoor Adventure
Clayton • Dillard • Mountain City • Tallulah Falls • Tiger • Rabun County • North Georgia Mountains
Travel • Real Estate • Lodging • Cabin Rentals • Restaurants
Rabun County is a vacation destination in itself, a two week holiday might not be enough. This unique mountain region is literally tucked away in the northeast corner of North Georgia's Blue Ridge Mountains. From Rabun Bald's 4,696 foot summit in the county's furthest northern end to the 650 foot deep Tallulah Gorge at its southern end, Rabun County is diverse in ways that offer an experience that's quite unparalleled.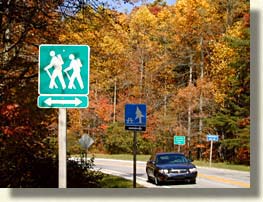 Near the county line of Towns and Rabun Counties, on US 76 you'll reach Dick's Gap and a crossing of the Appalachian Trail. There's a pullover here that I highly recommend. The Appalachian Trail is world renowned. Beginning at Springer Mountain in North Georgia, this trail travels over the backbone of the Blue Ridge Mountains in the south, to the Appalachian Mountains in the north finishing in Maine. This is a trek of approximately 2,167 miles. Stopping at this pull over, gives you a hair's touch and intimate view of this infamous trail. You can park, hike up to the mountain and then return to your vehicle taking in the opposite view on your trip back. Or, if you are not up for the hike, just step out of the car, walk into the forest a few yards, breath in the high mountain air, feel the tranquility and enjoy a picnic by the trail.
In the northeast corner of Rabun County is the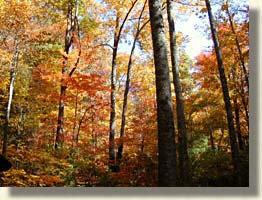 Ellicott Rock Wilderness, a restricted wilderness with numerous trails, waterfalls and the whitewater rapids of the Chattooga National Wild and Scenic River.
Located in the far northeastern corner of the state, Rabun County has a unique geographical personality that is in contrast...as different as east meets west. The most significant difference is that Rabun County is on the east-side of the Eastern Continental Divide, where as the rest of North Georgia is on the west-side of the Divide.
Rabun County's chain of lakes descend from the upper Tallulah Basin into lower Rabun County . The mountain towns and communities of this county align themselves along a corridor known as the "Gateway to the Great Smoky Mountains."
Traveling a few miles into Rabun County you'll come to a very important overlook on the north side of the road. Here you'll behold stupendous views of mountain ranges and valleys. One of the unique experiences you'll find at a peaceful overlooks such as this one, is that the overwhelming beauty is so inspiring, you can't help but share a few kind words with other folks witnessing the same majestic wonders.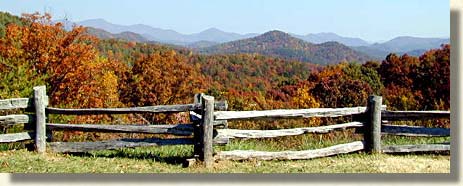 This is the upper part of the Tallulah Basin. To look upon its beauty, one would assume that this is untouched, virgin wilderness...quite the opposite. As far as the eye can see, this land was completely leveled by the logging industry in the early 1900's. The US Department of Agriculture obtained this wasteland and re-establish the wilderness with tree saplings to re-build the forest and stop the erosion.
Deep within this land of spectacular gorges and waterfalls is Tate City, located in a high mountain valley. Tate City is remote, and was difficult to reach in its boom days. It originally was a mining community, turned logging camp. Today the reclamation of this region has seen the return of the black bear and some sightings of cougar. The wealth of Tate City today, is in its solitude and the lack of population. What was once a thriving center of commerce, has given way to an isolated community of a few picturesque residential settings and natural forest lands.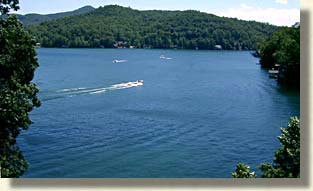 Continuing east on US 76 for a few miles, you arrive at the northern shores of Lake Burton. The beautiful sky blue waters of this secluded mountain lake is its most appealing asset. Lake Burton. With its 62 miles of shore line, Lake Burton is the uppermost and largest lake in a series of five lakes along the Tallulah River. The other lakes flowing south of Lake Burton are Lake Seed, Lake Rabun, Lake Tallulah and Lake Tugalo. Unlike the mountain lakes on the west side of the Eastern Continental Divide, which are operated by the Tennessee Valley Authority, these lakes are operated by the Georgia Power Company.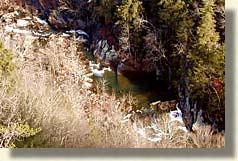 The Georgia Department of Natural Resources formed a partnership with the Georgia Power Company, to create the Tallulah Gorge State Park. This state park is along the Tallulah River, just below Lake Tallulah, in southern Rabun County. The spectacular Tallulah Gorge, or chasm is two miles long. It has cascading waterfalls and a scenic river, with class 4-5 whitewater rapids. Its 650 foot deep, sheer granite and tree lined walls can be viewed from the gorge's rim. For personal safety sake, and the protection of Tallulah Gorge's delicate state of natural resources, visitors to the park must obtain a permit from the visitors center, before hiking into the gorge.
Another boast of Rabun County is Black Rock Mountain State Park, Georgia's highest state park. Black Rock Mountain takes its namesake from the sheer cliffs of dark granite. The park stretches over 3 miles along the spine of the Eastern Continental Divide.

Bartram Trail traverses the back country and mountain ridges throughout Rabun County's northeastern mountain region, including Ellicott Rock Wilderness, and into North Carolina.
Yet another noticeable attraction in Rabun County is Rabun Bald. At 4,696 feet it is less than 100 feet shorter than Brasstown Bald in Union County making Rabun Bald the second highest point in North Georgia.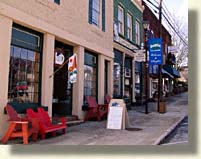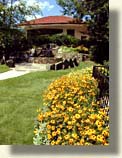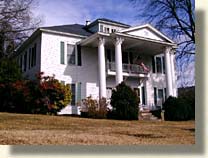 Clayton: is a classically beautiful mountain town, an old rail town with a main street lined with unique shops, galleries, dining and lodging. The town of Clayton has done a wonderful job of preserving its architectural heritage, balancing its older structures splendidly with its more recent development.
Dillard: Settled in 1794 by a Revolutionary Warrior Vet. Dillard is modest community of shops, restaurant and lodging.
Mountain City: A small town just outside of Black Rock Mountain State Park, you'll find antique and local mountain craft shopping, restaurants, lodging and the Foxfire Museum.
Tallulah Falls: Located on the rim of Tallulah Gorge State Park, Tallulah is a true tourist town. Due to the early popularity of Tallulah Gorge. The village of Tallulah Falls is a rail stop with several historic building for dinning and shopping.
click map
for a larger image
click banners and icons to check out our sponsor's web pages...
Clayton • Dillard • Mountain City • Tallulah Falls • Tiger • Rabun County • North Georgia Mountains
Museum and Family Fun
Clayton • Dillard • Mountain City • Tallulah Falls • Rabun County • North Georgia Mountains
Real Estate, Land for Sale, Log Homes, Cabins, Luxury Homes on Lake Burton, Lake Seed or Lake Rabun
Clayton • Dillard • Mountain City • Tallulah Falls • Rabun County • North Georgia Mountains

Go Directly to Julie's Web Site to View Lake Burton Real Estate Listings

Restaurants on Lake Burton

The Chophouse at LaPrade's on Lake Burton
Lunch •  Dinner • Sunday Brunch


Lunch Tues - Sun 11:30 - 5pm • Dinner - Tues - Saty 4-9 Sun Brunch 10am - close
Lakeside Grill - Call for hours

The Chophouse at LaPrade's re opened in the spring of 2011 under Chef James Reaux with casual elegant dining inside and outside, as well as the boating casual Lakeside Bar and Grill located dockside at the marina. Enjoy live music (in season), fine American cuisine, with regional southern and local accents. Chef Reaux provides premium grade products with an emphasis on fresh fish/lobster, prime rib, steaks and chops along with the finest quality produce and desserts. Complete with an extensive wine list and cocktails (dockside or in the restaurant).

25 Shoreline Trail • Lake Burton, GA 30523 • 706.947.8777

Interested in your business being on the Highlander, click here...

Let our visitors tell you about the Highlander...

Click the feathers to go to the Highlander site map...


The Blue Ridge Highlander logo, all photography, design, graphics, artwork, writing, digital images, etc are the
Copyright ©
of C. Wayne Dukes and Sherry Bell Dukes. 1996 - 2014, except where otherwise stated. All rights reserved, reproduction,
downloading, and/or duplication of any sort is strictly prohibited, all violations will be prosecuted.
Legal Policy
.
If you have any questions, or comments, regarding this site,
e-mail the Highlander
.